Today's consumer has endless access to online reviews, ratings, and comments on businesses when they are deciding where to spend their time and money. Research shows that 91 percent of people regularly or occasionally read online reviews, and 84 percent trust online reviews as much as a personal recommendation.
In working with tens of thousands of businesses on their reviews and customer experience we wanted to look at how behavior around reviews changes with industry type. So over the coming months we will share survey data from specific industries and how consumers view, interact and utilize online reviews.
"Restaurant Reviews Are Easy"
The statement I hear very often from every industry outside of restaurants, cafes, and bars is that it's easy for restaurants to get reviews. They're right. Another study brings this to light in finding that restaurants are the most likely business type to have Google reviews at 99% with a staggering average of 223.

A small plumbing business might have to work awfully hard to build a war chest of 25 reviews online, where a restaurant can open and find itself with 50 new reviews in a weekend (hopefully good ones). But while quantity might not be a challenge for restaurants and food businesses, quality absolutely is. Making sure you have a solid rating and rave reviews is a must to acquire new guests.
Restaurant Reviews Study
We surveyed over 500 consumers via Google Surveys to find out their opinion on reading, writing, and being asked for reviews related to restaurants.
Our Key Survey Takeaways
Over 58% of consumers use reviews to help make a restaurant selection at least one quarter of the time, with 36% using reviews to inform their decision half of the time or more.
Even with restaurants possibly being the easiest industry to acquire reviews for, over 50% of guests still never write a review.
Restaurants often think that Yelp or TripAdvisor should be their primary focus. They are important but Google has become a top site that folks read restaurant reviews on. This is even more true if they service a younger demographic, and holds true for both reading AND writing reviews.
You need to get feedback in the way that the consumer is willing to give it. 69% of consumers would leave direct feedback or a review using various channels if asked. You can no longer dictate that they leave it in one certain way.
50% of consumers expect a response at least some of the time. Restaurants need to think about how they can start responding to reviews as 13% felt the restaurant staff didn't ever even read them.
Of those most likely to write a great review, after half of their dining experiences or more, the ambiance, setting and location is the leading reason why.
51% of consumers said that service was the biggest reason they would write a bad review, with food quality or taste a distant 2nd with 31.6%.
Our Survey Questions
Here is a look at the questions we asked consumers about online reviews and restaurants.
1. When choosing a restaurant how often do you read online reviews to help in your selection?
Takeaways: Over half of our surveyed consumers are using reviews to inform their decision at least 1 out of every 4 times they are selecting a restaurant. With 18.8% using reviews nearly every time.
2. What review website or app are you most likely to read reviews on?
Takeaways: While many restaurants might focus on Yelp and Trip Advisor for online reviews, Google and Facebook are just as important. Google is right at the top with Yelp in our survey with just 1% separating them. It's also worth noting that Open Table at 9.8% isn't far behind Trip Advisor at 14.2%.
3. In reading reviews to select a restaurant, which is most important in your choice?
Takeaways: While the overall rating is the top choice with 41.4% of the vote, it's easy to see that review content matters greatly. The remaining 60% of respondents are looking for positive review content (29.2%), detailed reviews, and reviews that they specifically can relate to.
4. If the restaurant server or manager asked you to write a review or give feedback after your experience, how would you prefer to leave it?
Takeaway: Even with a personal ask, 30.5% of respondents wouldn't take the time to leave feedback or write an online review. With very even results for comment cards, the restaurant's website or app, and review websites, it's important to offer multiple ways for a consumer to talk to you and let them choose what they prefer.
In a deeper look at how age groups responded to this question we see that 25-34 year olds are most likely to communicate via text message (31.1%) and writing an online review (33%), and 35-44 year olds favor text message (25.4%) and the restaurants website or app (24.9 %).
46% of consumers opting to leave feedback via a comment card were 55 and older.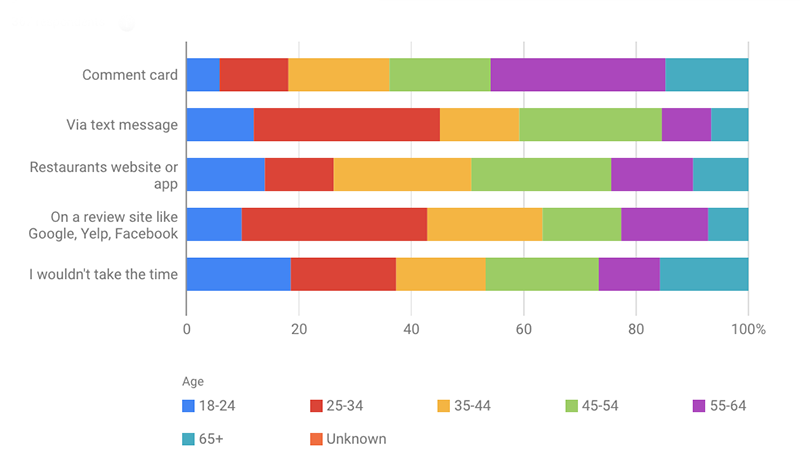 5. How often after eating at a restaurant do you write an online review on a site like Google, Yelp or Facebook?
Takeaways: As noted earlier, restaurants are the most likely business type to receive Google reviews but this question shows that 50% of consumers will never write an online review, Google or elsewhere. While the other half will, the majority (34.3%) will only write a review once in a great while.
In breaking down the frequency of writing reviews by age groups, we see that 60% of those writing an online review half the time or more are from the age groups of 35-54. Interesting enough was that each age group was very evenly split for never writing a review. Of those willing to write a review half the time or more 58% were female.
6. What review website or app are you most likely to write a review on?
Takeaways: This shouldn't be a surprise, Google reviews overall have grown at an incredible rate the past 5 years. Our survey showed that restaurant guests were most likely to write a Google review at 29%.
7. What about your dining experience would be most likely to cause you to write a GREAT review about a restaurant?
Takeaways: The clear leader for this question was that food options, taste and presentation was the aspect of a dining experience to cause the guest to write a review. But as you will see from a deeper view of the responses, things get pretty interesting.
In combining our previous question on how often a consumer leaves a review with this question we unearth an interesting insight. 35% of those willing to leave a review half the time or more are overwhelming motivated to do so based on ambiance, location, or setting. The more infrequent review writers are almost equally motivated by the food or service quality.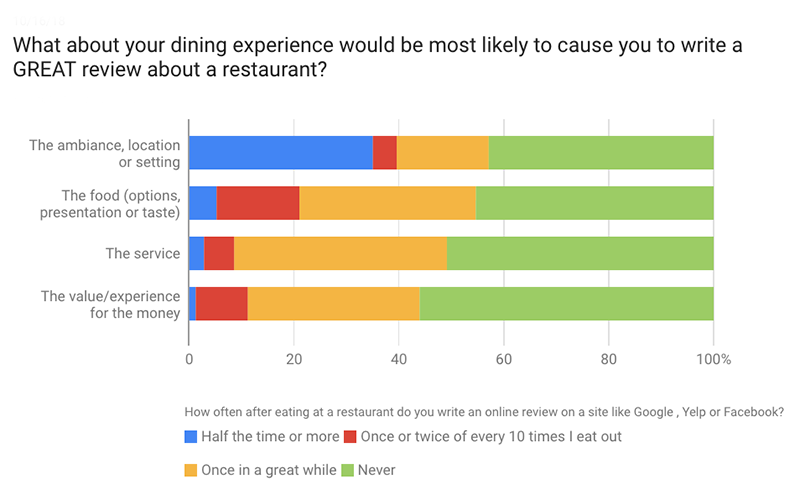 8. What about your dining experience would be most likely to cause you to write a BAD review about a restaurant?
Takeaways: Great service is likely the expectation when dining out, so it's not surprising that bad service would drive 51% of consumers to leave a poor review for a restaurant.
9. If you have written a review for a restaurant, do you expect a reply from the manager or staff?
Takeaways: Responding to your customers is important. With 11.8% always expecting a reply after a review and over 50% expecting a response some of the time.
What Should Restaurants Do To Manage Online Reviews?
While building reviews for restaurants might be easier than other types of businesses, it's not automatic. There are many aspects a restaurant needs to think about to manage their online reputation.
1. A restaurant needs to make customer feedback EASY for their customers. With writing reviews being more common by guests, you need to have an easy path to capture complaints and keep them internal and not online. Make sure you have a "Give us feedback" link on your website, email your customers that order online to ask for feedback, drive them to your website to talk to you. Make sure a disappointed customer can be heard and hopefully saved.
2. Monitor your online reviews on the review sites that matter so you can respond. As shown in the survey, more and more customers expect a response. Bottom line is that it's a customer touchpoint and you should maximize every touchpoint you can to build a stronger brand relationship to earn their loyalty.
3. Embrace that most of what's online is a reflection of your business. While it's true that some review writers are over the top, a lot of what they share has shades of truth to it. Great service helps you avoid poor experiences and bad ratings.
4. It's biased coming from us, but using a reputation management platform like GatherUp helps you take care of all three above as well as gain key insights to improve your operations and staff. Gather all of your customer feedback and reviews in one place to learn, respond, report and drive your sales up.