Reviews are incredibly valuable to a business. Each positive review is a success story from your customer that can help land your next customer. Each negative review is a suggestion on how to improve your business. It's easy to see the value of each individual review you earn for your business, but there is an even greater power when you can view, learn, and leverage them collectively.
This collective strength is why GatherUp created tags. Tags are a lightweight, flexible, and powerful feature that can deliver huge benefits in your reputation and customer experience management.
This guide is to help you get started using tags or help take your use of tagging to the next level. In short, you should be using tags, and let's break down the why and how.
Here are the benefits that using tags and auto-tagging can deliver with a great strategy:
Customer segmentation
Review segmentation
Attribution
Keyword, topic or theme segmentation
Reporting
Action call-outs
Marketing (Tag Widgets – reviews by keyword or theme)
Automated workflows
Tags can be applied a number of ways to 1st-party reviews both before and after the customer has left a review. 3rd-party reviews can be tagged once left only using our auto-tagging feature.
Once applied, tags show with their review in Customer Activity and in the Customer Profile for 1st-party reviews. Our example below shows how a taco restaurant is using tags for specific product categories like "tacos" and "drinks", specific products like their "shrimp taco", "price" for mentioning the price, cost, cheap, etc. and also customer sentiment like "customer love" for compliments and "issue" when a customer has had a poor experience.
What Are Tags All About?
Tags allow you to organize and connect your reviews in groups using whatever reasoning you decide. How you want to implement them is entirely up to you and that is part of the power of tags.
Most often we recommend and see that tags are used to summarize a review based on keywords, topics, themes, action needed, or sentiment. There are no set rules for tag use, they exist to help you simplify and group individual things (reviews) together.
Tags can take hundreds or thousands of loose keywords in you reviews and turn them into 3 to 6 main themes. That's a powerful move that makes both understanding and taking action easier.
A few simple examples are:
Tag all reviews mentioning customer service and staff with "Service"
Tag all reviews mentioning slow, fast, wait with "Speed"
Tag all reviews mentioning price, cost, expensive, cheap with "Pricing"
You can look at these mentions as exact words used in the review or just your perceived context. Again, you decide.
How To Organize Your Tags
With tags being about organization and the ability to simplify, it's best to map out how you will use tags before using the feature. Here are a few questions to ask yourself when setting up your plan for tags.
What context of a review is important to our business? This might be customer service, pricing, value, timing, etc.
What type of review might we want to show on our website grouped by a topic? Reviews by a specific service type, product type, geo like a neighborhood or staff member.
What review content might we need to take action on? This could be a review mentioning an experience for your business that requires immediate attention or follow-up.
While these three questions can provide a lot of the frame work for your business and tagging reviews there might be more for you. Use the power of tags to identify what's important, what needs and action and what you can market (with our Tag widget).
Another exercise that we have touched on before is using your past reviews and our Insights Report powered by IBM Watson to identify some of the biggest contributors to your reputation. These call-outs in the Impact section of the report can identify keywords you likely want to create a tag for and track.
Marketing Power With Tags
While tags have a ton of operational value for analyzing and reporting on key topics and themes in your customer experience and reputation, most gravitate to the marketing power of tags.
GatherUp is the only reputation management tool that allows you to display reviews on a website that have been organized by a tag. Our Tag Widget allows you to bring reviews, ratings, content, and conversion to any page on your website focused on a service, topic or team member. It's digital marketing gold.
Tag Widgets are a big part of our 5X Review Strategy and here are a few examples of tags and tag widgets in use.
For Clean Juice, an organic juice bar, this allows us to then display all of their reviews mentioning a juice cleanse on their service page dedicated to cleanses.
For Barbara Oliver Jewelry, the tag widget allows here to display her reviews mentioning "engagement rings" and variations on her page dedicated to custom engagement rings.
Our last example is for a real estate broker that uses tagging to segment reviews per each of their realtors. Jump Realty can now parse reviews to each agent's bio page. Realtor Suzy Cui now has reviews from her clients displayed on her page.
Tags can also be used to call-out a review that you would want to generate into a Social Sharing image in GatherUp to post to your social media accounts.
How Can I Apply Or Add A Tag?
Adding tags to a review is just as flexible with the ability to add a tag when you add a customer when you read a review and even for this to be done by our platform automatically (magic!). This can be done in a number of different ways.
Adding A Tag When Adding A Customer
You can add a tag right from the start when you add your customer to GatherUp for a review request. This is most often used when you already have a segmention in mind like the service they received, product used or staff member worked with.
The example below shows how to add a tag when manually adding a customer to GatherUp.
Once you have clicked the "+" to add a tag or tags to thus customer you have the option to create a new tag or select from your existing tags. There are no limits to the number of tags a review can have.
Adding Tags When Uploading A Customer List
You can also add tags when you are uploading a CSV or Excel spreadsheet using our "Import Customers" feature.
When you file has been imported you must review your column assignments to match the info type to the field in GatherUp it will populate. Make sure you select "tags" for the column you want to apply tags for. In our example below we are tagging the team member the customer worked with.
Adding Tags To A 1st-Party Review
Once a customer has left a direct 1st-party review you can add a tag(s) to that review in their Customer Profile. This allows you to see their rating and content and determine how it should be tagged based on your tag strategy.
This gives you ease and flexibility to tag the review for benefits in analyzing, filtering, reporting and marketing.
Our example below shows that once in the Customer Profile for your specific customer you can add tags to each review in their Feedback History. In our example for a car wash we are tagging the review as it talked about "Service" and mentioned a specific product, the "Platinum" wash. One reason we would want to tag the product is to later stream all reviews about the Platinum wash to a page on the website about that product.
Note: You can also remove or delete a tag from a 1st-party review in the Customer Profile by clicking on the "X" after the text in the tag.
Automate Adding Tags With Auto-tagging
Now that you have a better understanding of the benefits of tags, how to use them and how to create them, I have even better news. You can let GatherUp do all of this work for you!
Auto-tagging allows you to build keyword lists that trigger the applying of a tag once read in the review content. This is a huge efficiency win and allows you to create automated work flows that start with how you add customers to GatherUp for review requests, get reviews, tag the reviews and then display them on your website. It all can happen without you lifting a finger once set-up.
An additional benefit is that auto-tagging works for all of your reviews, both 1st-party and 3rd-party. So you can apply tags to your Google reviews, Facebook recommendations, and any other review sites you are monitoring.
Auto-tagging is a Pro plan feature so you will need to make sure your location(s) are on the Pro plan.
Setting Up Auto-tagging
You can access the auto-tagging feature two different ways, from the left side menu or from the Customer Activity page.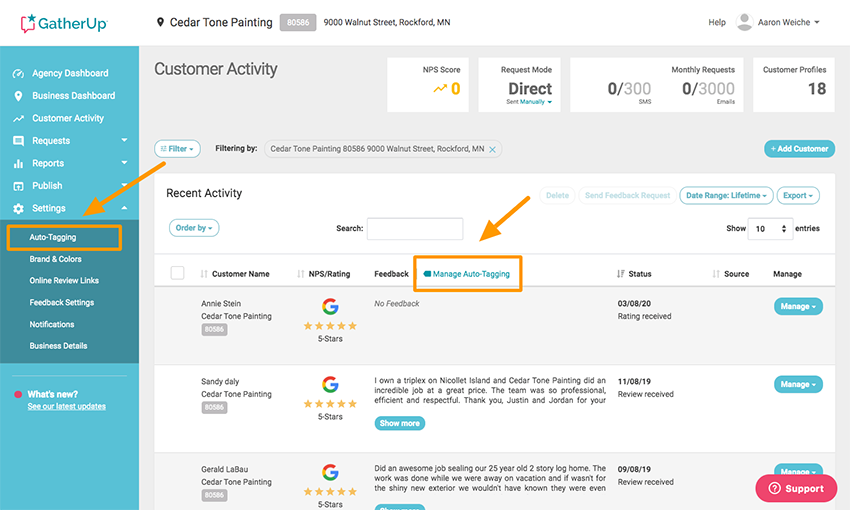 Clicking either of these entry points will bring you to where you can set-up your first auto-tag.
For this example I will be creating a "Communication" tag to call out how this painting business does on their calls, emails and follow-up with customers. This will allow the business to track communication as a key metric and also use a Tag Widget to show off their great reviews on communication on their website to separate them from competitors. Anyone working with a home services company knows that good communication can be very hard to find.
Step 1 of 3, click "Add New Tag" and then give a name to your tag. in our example it's Communication.
Step 2 of 3, add in the keywords you want to trigger the tag. We automatically add in the same term used for the tag as an exact match.
Pro tip: I usually will write down my tag name, then scan the history of reviews in GatherUp and look for the keywords/terms in the reviews that I want to have this tag apply for. Even though the example account only has 24 reviews I can quickly pick out reviews talking about phone calls, emails, and responsiveness. I can also add terms I hope to see in future review content, not just ones that exist. You can always go back and add or edit these. Our system will detect plurals as well so no need to add a singular and a plural version.
Step 3 of 3, allows you to either start using auto-tagging moving forward or apply your new tag to all existing reviews. Turning this option "On" will let our system review your past 10, 50, 100 or 500 reviews and apply your newly created tag. This is a great way to summarize and leverage your existing history of reviews if you have them.
Now your tag is ready to run. If you are asking the platform to tag your historical reviews you will need to allow up to 24 hours for this process to run.
Once you have created your tags you can go back and add, delete, or edit their keywords at any time by clicking the tag name or the "Manage" button. Below is an example of your tag once set-up in auto-tagging and how you can add a new keyword, remove one or edit it.
Unleash The Power Of Tags
This deep dive on tags should have clearly outlined the infinite power and value that a tag strategy can give your business or provide for your clients. This is just one example of how GatherUp is about far more than getting reviews, it's about using them to build a better business.
Tags can help you simplify how you analyze and report, it can provide direction to management and operations, and it can supercharge your content marketing, SEO, and conversion. It's a customer experience and reputation management strategy and tactic all in one.
We'd love to hear about your use and success with tags and auto-tagging, especially if this article gave you the roadmap on how to make it all happen.