Updated 10/16/23
The number one priority for businesses today is customer experience (CX), which is understandable since 86% of buyers will pay more if their experience with a brand is exceptional.
In a post-COVID world, customers seek local businesses that are empathetic, compassionate, and trustworthy more than ever. According to a recent Salesforce study, 89% of customers are more loyal to companies they trust.
Source: Salesforce
So we understand how crucial a good customer experience is – and that trust plays into that. Now we need to figure out how to improve the buyer's journey to enhance CX wherever possible. Analyzing the awareness, consideration, and decision stages can help you address any pain points that stick out along the way.
One of the most effective strategies for enhancing CX is conducting customer feedback surveys. Engaging with your customers by asking targeted questions and listening closely to their feedback can help you stay relevant and competitive in your industry. We're here to share customer feedback survey templates to get you started. 
What is a Customer Feedback Survey?
A customer feedback survey is just what it sounds like. It's a survey you send out to customers asking for feedback on your services or experiences they've had with your business.
Let's say you run a roofing business. Here are some sample questions you could use to form surveys to send to your customers after installing a new roof:
Were you satisfied with our roofing services?
What were the top factors in your decision to hire us?
Are you pleased with the quality of our roofing products?
Were there any problems that arose that we didn't handle to your satisfaction?
How would you rate our communication?
How would you rate the level of personal service you received from our team?
How would you rate the overall installation process?
How would you rate your overall satisfaction with the job we performed?
How would you describe our services to a friend?
How likely are you to recommend our business to a friend?
What Should a Customer Feedback Survey Accomplish?
Feedback surveys can help you connect and empathize with your customers. Hop into their shoes and see your business from their perspective. You can ask for feedback on whether you're meeting their (usually rather high) expectations or falling short. If you find the latter to be accurate, you'll have your work cut out for you.
Surveys typically have questions regarding your products, services, goals, or customers' personal experiences with your brand. You can also ask for overall satisfaction ratings. Shooting out surveys is an effective and fast way to gain valuable insight to help your local business grow in the right direction.
Don't be afraid to get creative with your surveys. For example, you could develop a quiz that enables people to interact with your business in a fun way. Surveys aren't just for long-time customers, either. They're also a great way to collect data to inform future marketing efforts or generate new leads for your business.
What are the Best Ways to Deliver Customer Feedback Surveys to Your Customers?
Here are the top four ways to deliver customer feedback surveys to your customers quickly to get valuable feedback.
Via Email
Email is one of the easiest and most-used methods for sending surveys to customers. If you want, you can even set up a workflow that automatically triggers your email to send once a customer performs a specific action – like paying for a service online.
You can either send a survey embedded directly into an email or include a link that leads the customer to your website or landing page.
On Your Website
Keep these surveys as short as possible – with just a couple of questions. You can get people's feedback on specific pages they're viewing to learn how to improve their experience or your onsite content. Be intentional, and remember that you're looking to achieve a singular goal through your survey.
Through SMS Messages
Another way to ask customers to complete a feedback survey is via text message. This method is only appropriate if your customers gave you explicit permission to text them or if they opted into text message marketing notifications. If they have, you can send out a survey link straight to customers' phones, which is a great way to get in front of people quickly.
In-Person
While customers are waiting in your office for an appointment or after you provide a service, you can ask them to fill out a quick physical survey. There's nothing wrong with good, old-fashioned paper and pen. If you have older clients who are less familiar with technology, physical surveys can be ideal.
Customer Feedback Survey Templates & Best Practices 
Follow these tips for creating and sending optimized, useful, and engaging customer feedback surveys.
1. Add Branding
Make sure you create surveys using your logo, colors, and other branding elements so your customers immediately know who they're from. If they know you personally, they'll be more willing to give you feedback.
Source: McDVoice.com
2. Focus on a Specific Goal
If you don't know what you want to accomplish by sending out a customer feedback survey, don't bother. You'll waste your time and your customers'. However, if you have a specific goal in mind, your survey can ask questions that help you achieve it.
Here are some of the most common types of customer feedback surveys:
Net Promoter Score (NPS) survey: Gauges how loyal a customer is to your brand and how likely they are to recommend your business to someone else, predicts future growth
Customer effort score (CES) survey: Rates how easy it is for your customers to use your products or services
Customer satisfaction survey (CSAT): Measures how satisfied a customer is with your products or services
Product satisfaction survey: Gathers feedback on how customers feel about your products and how you can improve them
Lost customer surveys: Helps you understand why a customer unsubscribed or left your business
Post-event surveys: Helps you discover what people enjoyed, disliked, and how likely they are to attend another one of your events in the future
Here's an example of an NPS survey that Noblr sends out to members several months after taking out a policy. They send the survey via email. Clicking on the scale leads the customer to a more extensive survey online.
Feel free to customize your customer feedback surveys or create new ones from scratch that address a specific problem or goal. Be as intentional as possible. To get meaningful answers, you need to ask significant questions.
Your customers should know your intentions as soon as they open your survey. Tell them upfront why you're asking for their help. If they don't see the purpose and how they can provide value, they'll be less likely to engage. Having an explicit objective, however, will help motivate them to take action.
3. Ask Clear, Engaging Questions
If your questions are interesting to your customers, they'll have an easier time jumping in and engaging. Especially if your customer feedback surveys are longer, it's smart to start with exciting questions to draw in survey takers. Make your customers feel like they're contributing value and providing useful insight.
Here's an example of a comprehensive hotel customer satisfaction survey:
Source: iAuditor
Another strategy is starting with broader, more general questions (like demographics) that are easy to answer. Then you can lead customers into more specific questions further down. People may be more willing to start the survey if it looks simple. And once they dive in, they'll be more likely to finish.
Regardless of your chosen method, make sure your surveys have a logical flow. Try to organize your questions to flow naturally from one to the next until the survey is complete.
4. Consider Using Both Close-Ended and Open-Ended Questions
Close-ended questions (multiple-choice, yes/no, checkboxes) are easier and quicker to answer. But don't be afraid to throw in some open-ended questions as well. Open-ended questions allow customers to share their opinions with more depth, flexibility, and personality.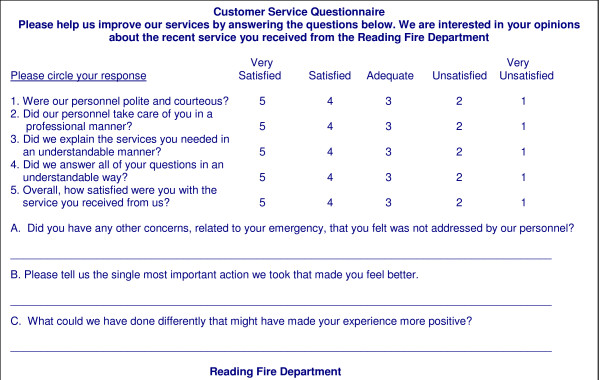 Source: ResearchGate
There's a time and place for both types of questions. Typically, close-ended questions are useful for quantitative or demographic feedback – often placed at the beginning of a survey. Open-ended questions can give you more qualitative information. They allow customers to explain why they gave their answers. They also enable survey-takers to clear up confusion around close-ended questions that feel too black and white.
5. Keep Them Short and Sweet
Do you enjoy filling out long-winded surveys from brands? Your customers likely won't either.
Stick to ten questions or less whenever possible. We recommend keeping your surveys to four to six questions for the best results. Long surveys – especially when they contain several open-ended questions – can be intimidating and time-consuming to finish. Your customers may simply be too busy for them.
You also have a better chance of receiving higher-quality responses if you keep your surveys short and to the point because survey takers can spend more time on each answer.
6. Personalize Your Surveys
Don't underestimate the power of personalization. Personalized emails get higher engagement. And personalizing your surveys can hold your customers accountable and show them you value them as individuals.
The feedback you gain from non-anonymous surveys can also offer you more valuable insights. When you know who you're sampling, you'll better understand why different groups of customers respond the way they do. You can also identify trends that surface based on various demographics and personality types.
7. Measure and Analyze Feedback
The customer feedback you receive should lead you to act, making changes to improve your processes, people, and services. If it doesn't, what's the point?
When analyzing the data, make sure you look for trends, not one-offs. Don't change something because one person reacted negatively to your business. Focus on issues that repeatedly surface over time.
For example, let's say you run a remodeling company and send out a monthly newsletter that shares photos of your latest home improvement projects. If you receive feedback from one person that your emails are way too long, you may have nothing to worry about.
On the other hand, if multiple people complain about your newsletters being longwinded or too "salesy," you'll know it's time for a change.
Examples of Customer Feedback Survey Templates
Here are several examples of customer feedback survey templates you can study and learn from to effectively craft your own.
1. Client Satisfaction Survey
Source: Attorney at Work
This survey states the objective clearly, has a warm tone, and combines close-ended and open-ended questions. It allows clients to say as much or as little as they like. Its questions are engaging and show clients their opinions are valued and appreciated.
Here's another excellent example of a CSAT survey:
Source: UT Health San Antonio
2. Net Promoter Score Survey
This survey touches on a lot more than just NPS. It also tackles speed, order accuracy, and quality while leaving room for a first-party review. They're effective across any industry, from Healthcare to Real Estate. They're especially effective for enterprise and franchise reputation analysis.
3. Customer Effort Score Survey
Source: QuestionPro
Here's an example question from a CES survey specifically addressing how much effort the customer had to exert to fulfill their request. Feedback for this type of survey can give you an idea of the status of your professional relationship with a customer. Just remember that NPS measures the relationship over a more extended period. Use the two scores in tandem for a complete picture of your customer.
4. Lost Customer Survey
After a customer leaves, Esurance sends out this email. It has a button at the bottom that leads to a short online survey to improve customer experience.
5. Post-Event Survey
Source: Microsoft
Asking questions about your event's leaders, food, activities, or entertainment can help you understand whether you met attendees' expectations. You'll learn whether participants found the event valuable and worth their time and money.
Customer Experience is the Backbone of Your Business
Getting quality feedback from your customers or clients is essential for your business's growth and success. Reliable feedback can influence your in-person and online customer service, products, services, communications, marketing, and more. Around here, we refer to listening as a superpower.
GatherUp can help you attract new customers, retain loyal ones, boost sales, and improve your reputation by empowering you to listen carefully and enhance the customer experience. It's simple, but also incredibly effective – as the best strategies usually are.