10 Ways To Get More Online Reviews
April 11, 2019
Getting great online reviews is good for business. So is having a basic strategy for requesting reviews. But, when you consider these statistics, a "Review us on…" sticker isn't going to get the job done.
Consumers require an average 40 online reviews before believing a business's star rating is accurate (up from 34 in 2017)
Shoppers in the 18- to 24-year-old range expect an average of 203 reviews per product page
85% of consumers think that online reviews older than 3 months aren't relevant
Wondering how to get more reviews? Or if it's ok to ask for a review? These are common questions when it comes to managing and maximizing your online reputation… so let's take a look at 10 ways to get more online reviews for your business.
1. Deliver an Outstanding Customer Experience
Number one on the list is a fundamental truth that cannot be ignored.You must deliver outstanding customer experience to receive positive customer reviews.
Beyond watching your review count increase, the main goal of a review strategy should be to listen and learn. Your customers will tell you what it is you need to do to provide an experience that stands out and sets you apart from the rest.
Establish a customer feedback loop that allows your customer to connect with your business to tell you about their experience, preferences, and general attitude about your brand. This valuable insight will help you gain an understanding of how customers experience your product or service… and instill the confidence you need to ask for a review.
2. Ask Every Customer
Research shows 86% of consumers would consider leaving a review for a business and 80% of 18-34-year-olds have left businesses reviews. Even when you consider that participation rates vary by industry, demographic, and customer experience the odds are good that asking every customer will return the extra reviews you're looking for.
Ask direct via email or text message. If you don't have customer information you can still ask customers for a review. Promote your review profiles on your website, product packaging, receipts, appointment confirmation cards, in-store signage, and business cards.
TextBack is another solution that works for businesses that don't collect customer information. By sending a keyword text to your TextBack number, customers trigger a reply that includes a link to your feedback and review process. Display and promote your TextBack number and keyword giving unknown customers direct access to leave a review.
Psssst. Don't fear the negative review.
Not asking for reviews won't prevent negative reviews. Unhappy customers are the most likely to do the work of leaving a negative review on their own. Anyway, consumers expect to see negative reviews. They increase consumer trust and present an opportunity for your brand to respond, provide information, and answer questions.
GatherUp takes review site terms and conditions very seriously. Our product is, by default, compliant with Google and TripAdvisors Terms of Service and we work diligently to maintain compliance. So go ahead and request reviews on these sites (and many others). You'll know you're in good standing when you use GatherUp.
3. Respond to Positive and Negative Reviews
Review sites are social communities of consumers that have a desire to contribute. When businesses engage in these communities, it promotes participation, strengthens communication, and signals to customers that reviews matter to your business. Replying to reviews has many benefits and increases the impact of the reviews you have.
Replying to negative reviews shows your future prospects that you are listening and care to resolve any issues that may arise in addition to helping the customer that left the negative review. Responding to positive reviews allows you to thank your happy customer as well as point out to future prospects your 5 star qualities.
A recent study shows most shoppers expect an average of 8-13 questions per product to be answered by the brand itself. Take the opportunity to give your brand personality, answer consumer questions, and show you're listening… so customers keep talking.
Many consumers are adopting Google Q&A to get answers. Be sure to monitor your Google My Business profile and respond to questions asked there.
4. Offer More Ways In for More Reviews
Give customers a variety of ways in to your online review profiles by providing access across customer touch points. Find ways to remind and encourage customers to leave a review and contribute to your online reputation. You will create a cycle that creates reviews by adding multiple entry points for your customers.
Display reviews on your business website to encourage reviews.
Create a reviews page that gives customers access to leave a review with the click of a button.
Make it easy for a customer to select a location, access a feedback form, and use review links for that location.
Create a Google link customers can click to easily leave a rating and review of your business. Include the link in digital communication such as email campaigns, order confirmations, blog posts, and employee email signatures.
Verify that your Facebook business page(s) allows recommendations. If it doesn't, turn on recommendations. Monitor Facebook Recommendations to gain valuable insight for your business.
Display any logo or icon, URL, email address, or phone number that a customer can use to access your online review profiles. Get creative and add to in-store signage, coupons, promo flyers, business cards, or product documentation to name a few.
Ask the customer in person. Create business cards that request a review and provide a way in. The cards will give employees an easy way to direct a customer where to leave a review after a positive interaction.
5. Use Customer Feedback as a Review
Reviews are found on sites like Google and Yelp and we all want more of them. Customer feedback is for customer service to deal with… Right?
Don't let semantics fool you. Reviews are customer feedback and customer feedback is a review. It's important to understand this:
A review left by a customer on a site like Facebook or Trip Advisor is a 3rd-party review. The content is owned by the site it was given to.
Feedback provided directly to a business by a customer is a 1st-party review. The content is owned by the business.
When you own your review, no one can say it's not recommended, remove it, or hide it. Asking for a rating, a quick survey, or open-ended feedback along with your review request will get more reviews for your business… and more reviews that you own.
And what's really useful about 1st-party reviews is that they are considered unique content. If you use 1st-party reviews correctly on your website they can impact SEO and surface review stars in search results, just like 3rd-party reviews from sites like Google, Facebook, and Yelp. Combine 1st- and 3rd-party reviews on your website or product pages for a huge boost to your online reputation.
6. Make Leaving A Review Simple
Customers crave convenience. Providing an accessible, simple, and quick process to leave a review is vital to getting more of them. With some due diligence you can delight customers with a painless process.
Create or claim your online listings/profiles on the various review sites and provide customers links for easy access.
Most review sites require customers to create an account and login to leave a review. Understand what review sites your customers use most and deliver a review request directly to their phone or email where they are likely to be logged in to their accounts.
If it's quick, it's easy. Using GatherUp's Ultimate request mode customers can give a Net Promoter Score rating, answer up to 5 survey questions, and give both a 1st- and 3rd-party review in about two minutes.
7. Request Reviews On Sites Customers Use
Which review sites do customers? The answer depends on if you're asking which sites they use to read reviews on or which sites they prefer to leave reviews on.
We surveyed consumers and asked "Which site do you prefer to leave a review on?" and learned that consumers ages 25-34 prefer to leave a review on:
40.8% Google
24.3% Business Website
19.4% Facebook
14.1% Yelp
Requesting 3rd-party reviews on Google and 1st-party reviews to use on your business website is a sound strategy to get more online reviews for your business. We recommend a review request to offer 2-4 online review sites for a customer to choose from. If you can't decide, test different sites in your review request to see which ones get the most participation.
You will also want to make sure that you are monitoring these sites for reviews and responding in a timely manner because number 3. in this list… Remember?
8. Time Your Review Request
Customers are far less likely to have something to say about their experience a day later, let alone 30 days later. Time your review request to land when a customer is still having all the feels.
A customer receives the bill for their meal, leaves a gracious tip for excellent service, and notices a brightly designed insert in the bill jacket promoting a way in to leave a review.
A satisfied customer with a newly polished set of nails is given an iPad to tap out a Net Promoter Score. This triggers a review request in their inbox 24 hours later when the polish is fully dried.
An insurance agent hangs up the phone after delivering the news to their customer that their claim was processed and a check is in the mail. He then clicks a button to send a text message to his happy customer requesting a review.
This moment is unique to every business, but when captured it turns timing into more online reviews.
9. Automate Review Requests
Turn to automation to deliver the steady flow of reviews you need to build content and provide the recent reviews consumers are looking for.
Use Zapier to integrate GatherUp with your current tech (like your POS, email marketing or CRM) to automatically send a review request to your customer. You select a trigger, such as a purchase, order confirmation, appointment reminder, or a Google Sheet entry that sends a 'zap' to GatherUp triggering a review request to be sent to your customer. It's simple and doesn't require a single line of code.
The automation does all the work to generate feedback and reviews at the same rate as the flow of customers to your business. Now you can turn your attention from getting reviews to harnessing the power of a customer experience hub.
10. Play the Long Game
Incorporating any of these tactics into your reputation management strategy will result in a surge of new reviews for your business. Pat yourself on the back but know this… you want to be the turtle, not the hare, for this race.
Barbara Oliver Jewelry has been requesting reviews since 2009 and started using GatherUp in 2014. She has a NPS score of 97. She asks every customer for a review and has a participation rate of 35% for 1st-party reviews and 38% for 3rd-party reviews.
Both 1st- and 3rd-party reviews are featured on her website. The Review Widget automatically marks up 1st-party reviews with review schema to impact SEO and help obtain stars in search results.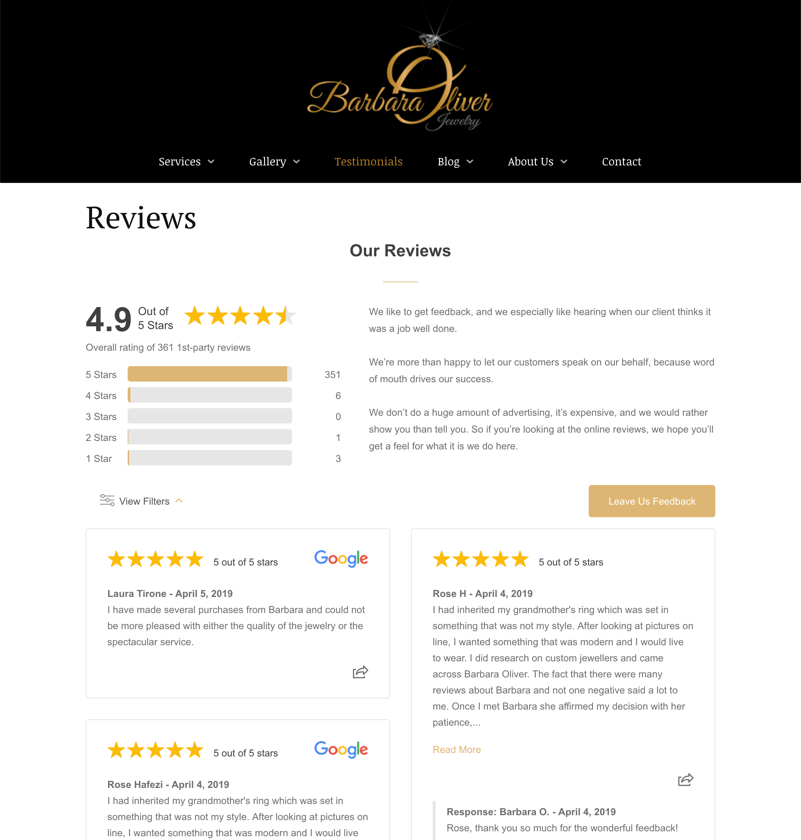 She consistently shows up in top positions on SERPs for competitive keywords in her industry and local market. Her review count of 166 stands out in comparison to other jewelers, including big box competitors, in the local search results. As a top organic result, her review stars and total count get recognized as worthy of a consumer's trust and increase click through rates.
Barbara's commitment to exceptional customer service, creating conversations, and seeking out the best reputation management tools have earned her a stellar online reputation.
May we all be like Barbara.
---